40 Days of Prayer is an invitation from your Church Parish Council to unite in prayer. We do so mindful that w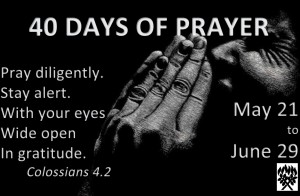 e serve a God who invites us to pray; to draw near where we make our petitions but more importantly where we listen.
Parish Council believes our Church stands on the cusp of a move of God that will see us growing in depth, in faith, in prayer, in ministry, in mission yet to truly know where God is taking us we need to come humbly in prayer – seek God's Word to us – allow God to challenge and convert us; and together to commit to embracing God's call upon our lives.
Therefore we invite you to 40 Days of Prayer – a time to listen to God.
Why pray at this time?
Of course we should be a prayerful people – a people who pray at all times yet there are times when it is appropriate to pray with greater focus and unity. As a Church we are experiencing opportunities for ministry in ways which have surprised us. With the opportunities comes challenge and increased demand upon our resources of both people and premises.
Here are a few of the things I am talking about.
FUNDAMENTAL MATTERS FOR US ALL
First and foremost are we seeking Christlikeness? Are we growing in depth, in understanding, is discipleship a present tense in our lives?
The goal of the Christian life is Christlikeness. Humility, prayerfulness, generosity, reverence, love for God, love for one another, love for others.
Let us pay attention to our relationships, to ensure they honour God and bless people.
Second pray for Clay and Graziela Peterson and their children as they settle into Queenstown and the Church. What will be the implications for our ministry; where is God taking us? Clay has a heart for evangelism and worship. How can we release him?
ARROWTOWN:
The Arrowtown congregation is currently wrestling with questions of future ministry needs; it seems now might be the time to seek a suitably qualified and enthused person to develop the ministry from St John's in ways which:
Seek to build the current congregation; in number and depth, and alongside it develop a new worshiping community in a manner that is more appropriate to younger and 'less-churched' people.
Arrowtown is fast growing; home to approximately 4500 people within the village and immediate surrounds; young families are putting the pressure on schooling and our mainly music groups. This community needs the Church to be healthy, Christ-centred and community facing.  Imagine what we could do in this area for the aged; or for families, children, teens.
We need to be in prayer seeking God's vision for Arrowtown.
Is it time to call a full-time minister to work alongside the current ministry team but to live and work in Arrowtown? If so pray for guidance to the right person. And that God releases the required funding.
QUEENSTOWN and FRANKTON:
The presenting issues in both places are around our buildings. St Margaret's fast becoming too small for a growing family church and St Andrew's with many design problems that restrict the use of the site. What is needed to cater for, and to aid, future ministry.
Associated with this what will be the shape of future ministry; while it is true that there are many aspects of what we do today that we like it would be wise to seek what God would like!
We need to be in prayer seeking God's vision for Queenstown and Frankton.
Is the time right to renovate, or rebuild at Frankton? Or move? What location would work best for the long term ministry?
What needs to happen to ensure the health and development of Manna Café; Wakatipu Global Community; Queenstown Korean Church; Children's Ministry; Youth Ministry.
Specific Activities
Congregations:
Are invited to set aside at least 30 minutes once a week to spend in prayer together.  A Sunday may work for some, alternately find a time during the week.
Individuals:
Are invited to commit to 10 minutes of daily prayer for the 40 days.
In addition I encourage you to find a prayer partner (or partners) that you meet with once a week.  The Saturday morning prayer group that meets at St Margaret's is a good example of a small group who faithfully pray. A study group may also be a good place to pray.
Special Services: At combined services we will unite in prayer. We will affirm one another; we will walk with one another.
Mutual Discernment:
We would hope that people understand that prayer and discernment are a community activity lead by the Spirit; therefore if you believe God is leading us certain directions it should be shared; maybe initially with a prayer-partner or small group; but also with the whole Church. As you pray make a note of anything that God lays on your heart; then ask God what God wants you to do with it. Sometimes it will be just for you and you alone; other times it may be something that upon reflection you have wrong, so leave it; yet other times it might be best to share with the Church. So please do that.
One way will be to use the prayer boards that will be set up in each church building. Or you could click here and add your message to the sheet you will find.
You could also let Ian, Erin, Joao, Clay, an elder, or Parish Councillor know what it is and we can add that to our prayers.
Additional Activities:
Use the Daily Prayer Calendar; these will be available at each of the churches, or read online
Daily Prayer Calendar – Wk 1 (21st to 25th May)
Daily Prayer Calendar – Wk 2 (26th May to 1st June)
Daily Prayer Calendar – Wk 3 (2nd to 8th June)
Daily Prayer Calendar – Wk 4 (9th to 15th June)
Daily Prayer Calendar – Wk 5 (16th to 22nd June)
Daily Prayer Calendar – Wk 6 (23rd to 29th June)
Go on a Prayer Walk.
It is often helpful to take our prayers beyond the walls of our church buildings and homes. In effect a prayer walk is simply 'praying for others' on location.
Though they usually walk unnoticed, prayer-walkers quickly become more aware of their neighbours, and find their prayers becoming more focused on the realities of their community.
What now? Commit to pray. Sign up here
Come let us pray!