Recently I attended the General Assembly of the Presbyterian Church of Aotearoa New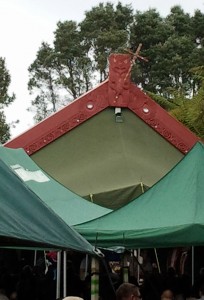 Zealand (PCANZ). The biennial General Assembly gathered on the grounds of Te Maungarongo, our national marae, in Ohope for the opening ceremony and worship then continued at Rotorua Boys' High School from October 4th to 7th.
In my experience Assembly is always a paradox – I enjoy attending, I value the sense of being God's church, I appreciate conversations (albeit brief) with old friends and listening to contrary opinions, I rejoice in the times of worship – especially when we are stilled.
Yet Assembly is also a place of stress and distress: long days (8:30am to about 10pm), protracted debates, broken relationships, entrenched positions, too few voices, hurried decisions, apathy. This, and more, is the paradox of Assembly, the paradox of being human. We are inconsistent beings – capable of profound love, humility, and insight: and profanity.
We weep – God weeps.
We weep – God swoops to our side and loves us. Continue reading →