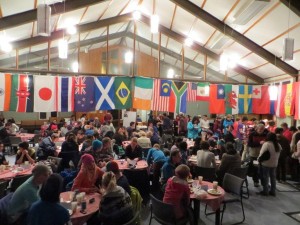 Pasta Café Queenstown 2019 ran for 6 weeks every Friday night from the 19th July to 23rd August.
This was the 17th year of Pasta Café. Here we serve a great free hot meal with drinks and home baking.
We believe God has been extremely generous to us and our hope is that we can pass this blessing on to families and visitors to our town in a safe, warm and friendly environment.
Pasta Café is supported by generous donations from the Wakatipu Community Church and a number of local businesses. In addition members of the community and others can also support Pasta Café by donating via the Givealittle website.
All are welcome to come along and enjoy the food, conversation and music. And please do like us on Facebook – here you will find the latest information.
Here are a few images from previous years.