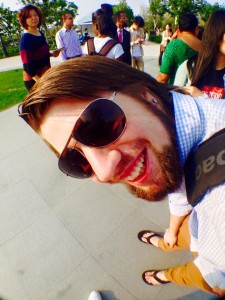 Currently AJ Key is away on a Training in Mission programme.
here you are able to read updates of his experiences and that of his fellow trainees.
LINK to all journals and videos
Training in Mission (TIM) is a cross cultural training programme for young adults from member churches in the Council for World Mission. In 2015, TIM is being held in partnership with the Presbyterian Church of Taiwan, the Kiribati Protestant Church, and the Presbyterian Church of Aotearoa New Zealand.
The aims of the Training in Mission Programme are to:
provide a training for life.

It is intended to be a stage in Christian formation which helps each participant in a life–long involvement with the mission of the church.

offer training which provides:

wider vision;
deepened commitment;
a strengthened sense of fellowship and partnership with other Christians around the world, particularly through CWM churches.
Though initiated three decades ago, CWM is constantly refining the content and methodology of the Training in Mission. However, we wish to reiterate the following at the very outset.
Though the title uses the phrase training, the Programme is aimed at formation, the formation is for life. In other words, recognizing the locus of mission as the 'public space', TIM is a learning process of enabling participants discover perspectives and develop skills for a life of witnessing.
TIM is an enabling experience. Enable participants for an adventure of faith, rooted in God and enacted in the world.
TIM is a journey of Transformation, a dialectic of self and society.