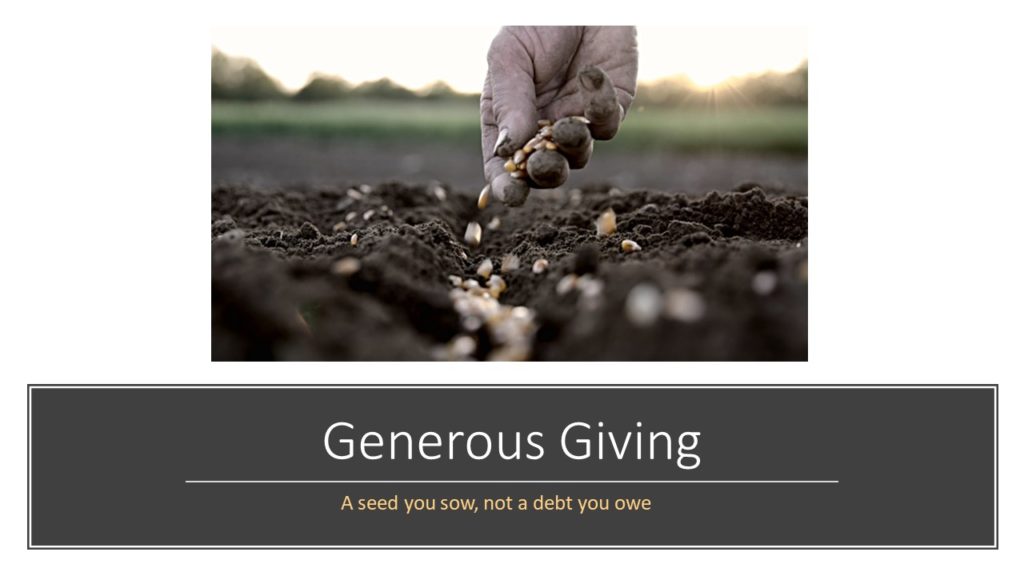 Throughout Scripture giving to God and to others is an underlying foundation of faithful God-honouring life.
Giving is a response to the grace that God extends to us. While we can never match the extent of God's giving, we should seek to respond to the grace God has given us through our actions and our attitudes.
Giving should never be a matter of guilt, rather we should give freely, joyfully, and generously. Giving is a seed you sow, an investment in the Kingdom of God, it is not a debt you owe.
As a local church, we aim to live in Christ, and to grow as a Community of Faith, Hope, Love, and Joy, all the while we seek to grow God's kingdom one life at a time.
We can all play our part in this by prayer and by the giving of our time and talents. But we can also impact the vision by giving money. When more is given, more is possible.
Our giving should be proportionate to our resources. The Old Testament teaches the principle of tithing and this is a good starting point for New Testament generosity. Tithing simply means giving at least 10% of our income to the kingdom of God.
Giving is:
a response of gratitude
a spiritual discipline that you have chosen to perform
an expression of your love for God
an expression of your love for others
sacrificial
an acknowledgement of God as the source of all you have
a way of contributing to the life, mission, vision, and goals of the Wakatipu Community Presbyterian Church (WCPC)
Tax Rebate
WCPC is a registered Charity, which means that you can receive a tax rebate from IRD. Contact the church office for a donation number so that we can give you a receipt at the end of each financial year.
How to give:
1. In the Sunday offering
2. Set up an online payment from your bank account, this can be a one-off or an Automatic Payment that repeats as often as you choose. Remember to add your Donation Number and the reason for your donation, i.e. 'weekly tithe'
Bank Account details:
Bank: BNZ
Account Name: Wakatipu Presbyterian Church
Account: 02-0948-0020110-000